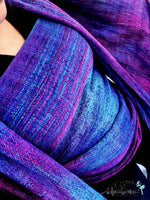 Our Story
I'd like to welcome you to our babywearing journey, and thank you for letting me come alongside yours. My name is Echo, and my studio is located in Alberta, Canada. I am the owner & weaver of Chicibeanz Handwoven, as well as a busy mom of five.
I have always loved colours, fabrics and textures. While weaving I love to run my hands along the glorious fabric, absorbing the feeling with my fingertips. When new yarns arrive at my studio I love to comb the fibers with my fingers, then give it a big smoosh and inhale their different glorious scents.
Weaving is life for me and I truly love every step of it, from selecting the fibers, to carefully hand dyeing them. I love the quiet hours of dressing my loom, and the excitement of throwing my shuttle back and forth, watching the fabric come to life. My favourite part of course is unraveling the fabric off the loom after weaving. Then the satisfaction of hemming and handwashing each individual wrap, getting them ready to go to their new homes to be snuggled by their sweet babies.
Handwoven

Creating fabric from thread
Babywearing

Keeping them close, loved and secure
Handmade

Lovingly handmade in the Canadian Prairies
Heirloom

Creating magic that you can treasure for years to come
Handwoven
Creating fabric from thread
Babywearing
Keeping them close, loved and secure
Handmade
Lovingly handmade in the Canadian Prairies
Heirloom
Creating magic that you can treasure for years to come